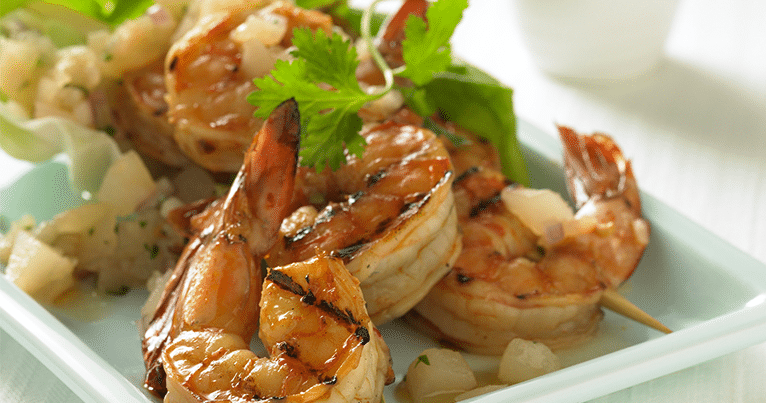 This recipe works for: Appetizer
Serving Size: 24
Ingredients
1 cup Pacific Northwest Canned Pear juice (see below)
1 cup Soy sauce
1/2 cup Rice wine vinegar
1/3 cup Dark sesame oil
2-4 tablespoons Chili-garlic sauce
1/4 cup Pickled ginger, minced
144 pieces Shrimp, peeled and deveined (16 count/lb.)
48 Bamboo skewers, soaked in water
24 leaves Baby bib lettuce leaves
1-1/2 quarts Pear Relish*
1 cup Dark sesame oil
24 Fresh cilantro leaves
* PEAR RELISH
1-1/4 quarts Pacific Northwest Canned Pears, drained, finely diced, juice reserved for marinade
2/3 cup Cilantro, minced
1/2 cup Red onion, finely diced
1/4 cup Rice wine vinegar
1/3 cup Fish sauce
2 teaspoons Chili-garlic sauce
Directions
1. In container with lid, whisk together Pear juice, soy sauce, vinegar, oil, chili sauce and ginger; add shrimp, toss to coat, cover and refrigerate 1-2 hours, stirring occasionally. Before cooking, remove shrimp from marinade and drain.
2. Weave shrimp evenly onto skewers, 3 shrimp per skewer.
3. To Prepare: Grill 2 skewers per serving to order over medium-high heat.
4. To Serve: for each serving, place lettuce leaf on plate and mound 1/4 cup Pear Relish* over leaf. Top with 2 shrimp skewers and drizzle with 2 teaspoons Sesame oil. Garnish with fresh cilantro sprig.
Pear Relish: In a bowl, combine all ingredients; toss to mix well; cover and refrigerate a least 2 hours before using as directed. Mixture may be processed slightly for smoother texture to serve as dipping sauce.